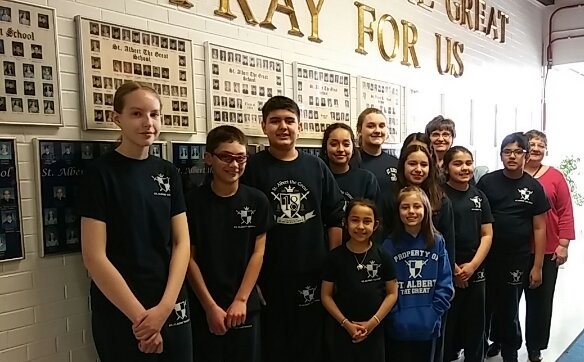 St. Albert the Great Student Council is a cooperative organization made up of students who actively support student affairs of the school. Council members organize social and extracurricular activities for the benefit of the school community.
Student Council Officers:
President- Sophia Kanan
Vice President - Yuki Zheng
Treasurer - Angel Escobedo
Secretary -Emily Keane
Student Council Members:
Kindergarden- Daniel Piszczek
1st- Isabella Reyna
2nd- Kamryn Crocker
3rd- Serianni O'Neill
4th- Lilian Martel
5th- Noah Rosas
6th- Leo Hernandez
7th- Emily Sorn
8th-Sophia Mungia
Below are some of the activities that Student Council has organized:
Candy Grams for Valentines and Mardi Gras Day
They also collected "Pennies for Patients" for the Leukemia/Lymphoma Foundation which raised a total profit of $526
They volunteer with St. Vincent DePaul by organizing a Spring Food Drive
Holy Week Activities
Baseball Camp
Shoveled Driveways
C.C.D helpers
Guide parents during the Open House
Our Lady of Guadalupe Procession
Fish Fry
Volunteer for Carnival
Collect dog and cat food, toys, and blankets.