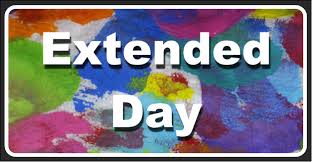 CLICK HERE TO DOWNLOAD THE EXTENDED DAY PACKET AND REGISTRATION FORM
Purpose:
This program has been instituted to provide before and after school care for St. Albert the Great students whose parents are working, or as emergency situations arise. Extended Day is open on every school day (unless otherwise notified) from 6:30 am until 8:15 am and from 3:00 pm – 6:00 pm however, it will not be available for preschool children dismissing at 11:15 am.
Students who are in Extended Day will be picked up by their Homeroom/Cohort teacher and escorted to their classroom if the students is in grades PK-3. Students in grades 4-8 will be dismissed from Extended Day and will walk directly to their classrooms/cohorts.
All students that participate in Extended Day will receive a wellness check upon their arrival. This consists of a temperature check, general health questions, and hand sanitization.
Enrollment:
St. Albert the Great children, PreK through 8th grade may enroll. All families are expected to register their children in Extended Day prior to their first day of usage. Emergency care will always be provided at any time, however, the registration forms will be sent home with your child on that day.
Activities:
We will provide the children with daily fun activities such as games, puzzles, movies, crafts, and art projects, etc. Physical activities will take place as well. Outdoor activities in small adult supervised groups may take place when weather permits. Permission slips will be sent home for activities off school campus.
Study Center:
A quiet area is provided for those children who would like to read a book or study.
Toys from Home:
Please do not let you child bring any personal items from home. We provide plenty of toys and games for the children to use while attending the program.

Snacks:
Students attending the morning session are to have breakfast before arriving to school. If your child will be attending the afternoon (3:00 pm) session, please provide a light snack/drink for them. Sharing food is not allowed.
Baskets:
Every child that is Registered for Extended Day, will be provided with their own clothes basket, that is assigned to them only, for storing their belongings. Any student that is not registered, will be given a black garbage bag to store their items for the duration of their time in Extended Day.

After School Activities:
After school activities will not be taking place at this time. If the pandemic eases into a controlled situation, then the following policy will take place:
If a child is enrolled in an after school activity such as Scouts, Choir, etc., arrangements are made with the director, of that activity, for the child to be "removed from" and "returned to" the Extended Day room. Students will not be dismissed to anyone following an activity unless the approved person has signed the child out of Extended Day. Please make sure you have signed out your child from Extended Day before picking them up from their activity. Prior to your child being allowed to leave for an activity, a permission slip must be on file in Extended Day. The staff cannot take "phoned in" permission for the release of a child for an activity.
Attendance Policy:
Unless written notification or verbal instruction is received from a parent/guardian, the child will be sent to Extended Day as scheduled. A person authorized on your registration form must sign out students from Extended Day. There will be no exception to this rule. This is our best way of securing the safety of your child. The staff is not required to recognize all the authorized people for every child, so please do not be offended if a staff member asks to see some identification. Your child's safety is extremely important to us at all times. Please instruct anyone who may be picking up your child to bring some form of identification with him or her. We may not be able to release a child without this information.
A child will never be released to anyone not on your list!
Please notify Extended Day immediately if there are to be any changes in your normal routine/schedule for the child. Extended Day is available everyday but, if you need your child to be added or removed to/from the list in the after school session, please contact the school before 2:00 pm.
Emergency Use:
No child will ever be left alone outside at any time. Students that arrive early to school or that are not picked up on time after school, will be placed in Extended Day. However, sometimes circumstances arise and if you may know this before the end of the school day, please call us at (708) 424-7757 so we can notify the child, their teacher and the Extended Day Staff. If emergency use of Extended Day is required, parents will be charged the "non-registered" rate of $10.00 per hour.
Late Pick Up:
The staff employed by the program are expected to remain only until 6:00 pm. Courtesy demands that this be respected. An additional fee for late pick ups will be charged to the parent at $5.00 per child for any portion of 15 minutes late, plus the regular hourly Extended Day rate.
For example, if you arrive at 6:20 pm, you will be charged $10 and $18, for a total of $28.
6:00 - 6:15 = $5
6:15 - 6:30 = $5
3:00 - 6:00 = $18
Total = $28
Behavior:
The children are expected to respect the staff, each other, and the materials provided at all times. They must never use the phone, answer the door, or leave the school or grounds without an adult present or without permission. If there is a consistent behavioral issue with a child during Extended Day, the Principal will be notified and the child may be removed from Extended Day services.
Special Provisions & Procedures:
In the event of an illness or accident, the parent will be notified according to the instructions on the Extended Day Emergency Card and Registration Forms.
IT IS VERY IMPORTANT THAT YOU NOTIFY EXTENDED DAY OF ANY CHANGES IN TELEPHONE NUMBERS ON YOUR EMERGENCY CARD!
Charges & Costs:
| | | | |
| --- | --- | --- | --- |
| | 1 child | 2 children | 3 or more children |
| Registration | $40 | | |
| Hourly Rate for Registered Students: | $6 | $8 | $10 |
| Hourly Rate for Non-Registered Students: | $10 per child | $20 | $30 |
Registration fee is $40.00 per family. (fee covers the cost of paper, craft supplies, games, etc. needed during the year). This fee also reserves your spot in Extended Day, and helps us to identify the number of workers we need for the day. Please do not register for ED, if you do not intend on using these services regularly.
Supplies: We ask that each family brings 2 Lysol wipes and 2 large boxes of Kleenex.


Hourly Rates: Fees are charged for any portion of ½ hour intervals @ 1-30 minutes you will be charged a ½ hour rate; 31-60 minutes you will be charged the hourly rate. $5.00 per child, per any portion of every 15 minutes after 6:00, plus the hourly rate will be charged for late pick ups.
Billing: Weekly family bills will be sent home to the oldest child in school approximately 1 week after the week of service. Usually, bills are sent home on Friday and due by Wednesday. The due date is always posted at the top of the bill. Payments not received by the due date posted will be charged a $5.00 late fee. Please refer to the school handbook regarding NSF fees.
VERY IMPORTANT: If you are going to use your Extended Day payments for tax purposes, it is important for you to keep the white copy of the bill you receive (we have our own copy) or use your cancelled check for tax purposes.
Changes and modifications are at the discretion of the Principal.
Thank you for choosing St. Albert the Great Catholic School for your child's education and for your before and after school needs.
Changes and modifications are at the discretion of the Principal. Thank you for choosing St. Albert the Great Catholic School for your child's education and for your before and after school needs.