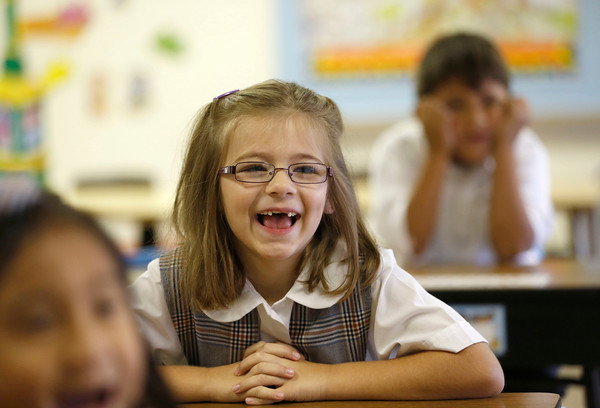 All students and families are welcome at St. Albert the Great!! Please join us at our Open Houses to learn more about our school! Open House is held for both current and new families. This is a great opportunity to visit the classrooms and meet the teachers, staff, and principal.
This year's Open Houses are on:
2018 - 2019 Enrollment: St. Albert the Great welcomes new students throughout the year. A student's acceptance will need to be considered based upon our current class size as well as the academic and developmental needs of the student. Parents interested in enrolling their child at St. Albert the Great, should call the school office at (708)424-7757.
Our families choose to enroll their children at our school for many reasons, including:
our graduates are admitted to selective and private high schools, often earning scholarships.

We utilize technology to enhnace our students' learning and growth.

We offer a personalized learning environment

We have our own Library and offer other specials such as Gym, STEM, computer,Spanish, and social emotional learning.

Our teachers are certified and attend a number of Professional development workshops to meet the individual needs of each student.

We serve working families by offering extended day care from 6:30am until 6:00pm

We work with families to make this investment affordable.

St. Albert the great offers exceptional class sizes to maximize instructional time with students.

Weekly school liturgies and monthly family mass bring us together to celebrate our faith.
Registration fees are normally lowered during February, so it is highly encouraged to register at that time.
Prospective parents should complete an Application Form and submit it to the Main Office. You may click the link to download our New Student Application Form, or you may call the school office to obtain a paper copy of the New Student Application Form. Families of new students receive acceptance letters after a screening session has been completed. Families of new students will be notified when their screening session has been scheduled.
Current families If you are a current family please click the link to download the Re-registration Form for the 2018-2019 School Year. Enrollment preference is given to siblings of current St. Albert the Great students.
All families: After March 1st, applications received for new and current families are filled on a first come, first serve basis. A waiting list is created for new and current families once a grade level has reached capacity.
ADMISSIONS SCHEDULE
Below is a schedule of important dates in the Admissions Process for the 2018-2019 school year:
August 5, 2018 Open house after the 9:30 mass
August, 2018 All Materials Fees for the 18-19 school year are due by this time
September 20, 2018 Medical, Vision, Dental forms due to office to avoid exclusion
Schedule a Tour: If you are unable to attend our Open Houses, please feel free to schedule a personal tour. All new students and families are encouraged to attend an Open House or to schedule a personal tour of the school. Please click here to schedule your tour today.
Important Forms:
2018-2019 Registration Fees, Materials Fees, and Tuition
Re-registration Form 2018-2019